Sarah Pearse on Writing The Sanatorium
Jun 11, 2023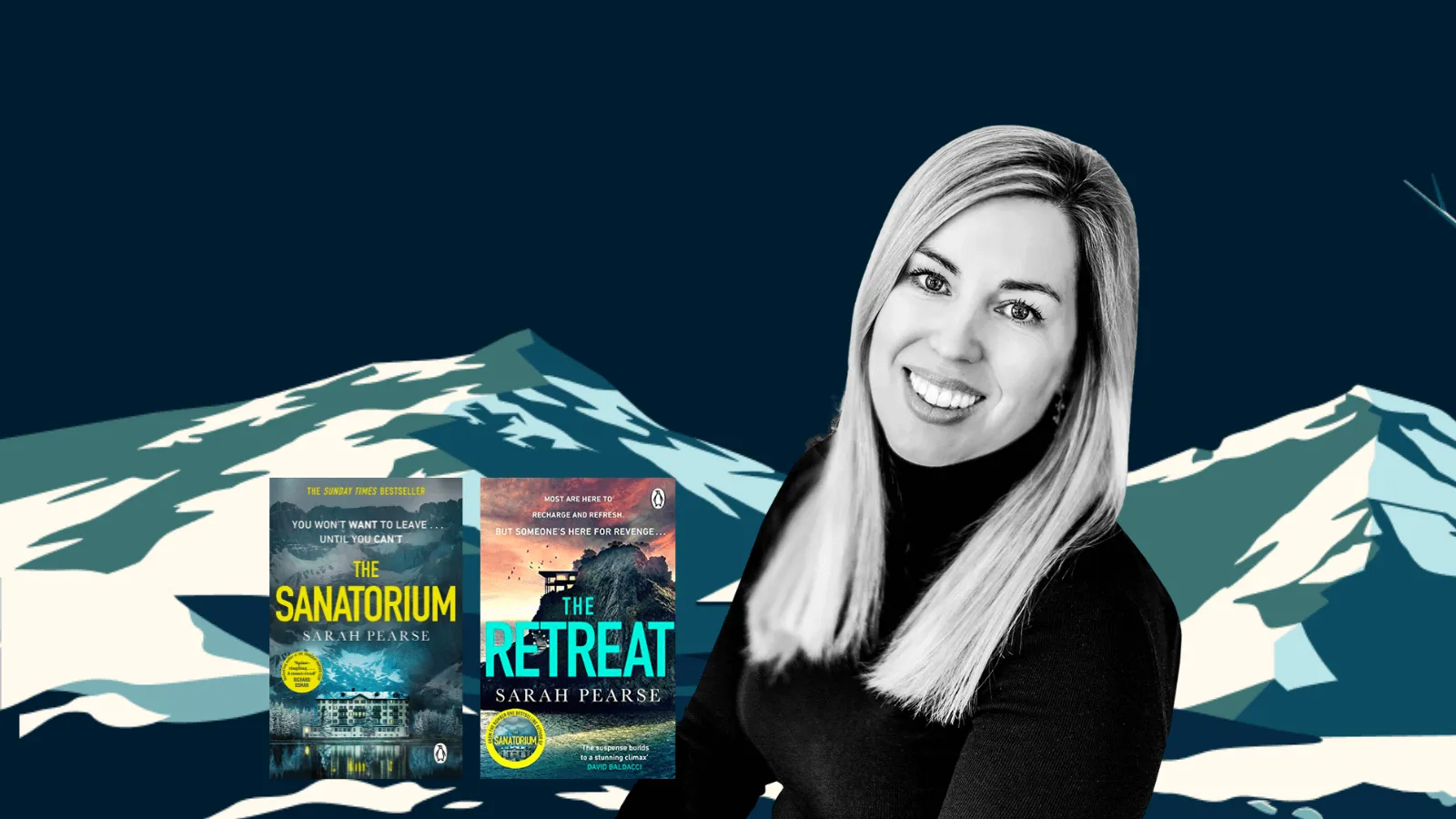 Sarah Pearse is having somewhat of a dream writing career – after publishing two suspense novels (The Sanatorium in 2021, and The Retreat, published in 2022) Sarah is a double New York Times bestselling author, a Sunday Times number 1 bestseller, and her debut novel was chosen by Reese Witherspoon as a Reese's book club pick.
Her books tend to be set in remote spaces and abandoned places with a dramatic setting. Based in a Swiss alpine town, The Sanatorium follows Detective Elin Warner as she's invited by her estranged brother to stay in a converted hotel with a dark past. Arriving in the midst of a threatening storm, things only get worse when they wake the next morning to find her brother's fiancée is missing. With access to the hotel cut off, the guests begin to panic.
In her second novel, The Retreat, an idyllic wellness retreat has opened on an island off the coast of Devon, promising rest and relaxation – but the island itself, known locally as Reaper's Rock, has a dark history. Once the playground of a serial killer, it's rumored to be cursed. When a woman is found dead below the yoga pavilion in what seems to be a tragic fall, Elin Warner soon learns that the victim wasn't a guest – and she wasn't meant to be on the island at all.
Ahead of her Live Q&A with members of The Novelry this week, Sarah sat down with us to answer a few questions on how she writes.
Sarah Pearse on Inspiration and Writing The Sanatorium
The Novelry:
Hello Sarah! Let's start with the classic author question: where did the idea for The Sanatorium come from, and what inspired you to write the book?
Sarah Pearse:
The idea for The Sanatorium came from both my experiences living in Switzerland in my early twenties and an article I read in a local Swiss magazine about the legacy of sanatoria in the region.
When I lived in Switzerland, I spent a lot of time in the mountains, and after experiencing its extremes in both landscape and weather, I knew I wanted to set a story in the Alps at some point in the future. When a storm rolls in or you witness the aftereffects of an avalanche, the mountains can move very quickly from a place of fun to somewhere extremely sinister.
The article I read in a Swiss magazine was also hugely evocative. It described how after antibiotics first came into use as a treatment for tuberculosis, many sanatoria became hotels. Looking at the photographs of these buildings, from the huge windows to the sterile interiors, got me thinking about how it would feel to stay as a guest in a building with such a clinical past. I really played with this in the design of Le Sommet, the minimalist hotel set in the old sanatorium. There are lots of macabre reminders of the building's dark past!
The Novelry:
How long did your first draft of The Sanatorium take?
Sarah Pearse:
Around eighteen months, probably closer to two years if you include all the research – I went down a lot of Google rabbit holes, as I found the topic fascinating.
The Novelry:
How many drafts did you do before you submitted the manuscript to a literary agent?
Sarah Pearse:
I already had an agent at this point, who I found through the slushpile. I had signed with my agent for my very first novel which we both loved working on but never found a home with a publisher. I think this is very common in the publishing world but probably doesn't get talked about enough as it can be extremely hard on both author and agent! After dusting ourselves down at the end of that process, we decided to leave that novel and I went on to write The Sanatorium. I think the process of getting feedback on the first manuscript from the editors we submitted to really helped me with The Sanatorium, in terms of both understanding market forces and how to self-edit effectively.
For The Sanatorium, I did three full re-drafts with my agent and then some minor edits.
Sarah Pearse on Editing The Sanatorium
The Novelry:
Did the editorial process change when you signed with a publisher?
Sarah Pearse:
I think one of the biggest differences is that there is a more structured approach to the edits, both in terms of process and deadlines. With my agent, this was much more fluid as we weren't under any particular time pressures at any part of the process.
The Novelry:
How did you approach the edits on the page?
Sarah Pearse:
One of the key things I remember about the editing process was needing to take time to absorb each set of feedback I received. When you initially receive the first set of edits (particularly the larger set of structural edits), the temptation is to want to dive into the manuscript right away and fix things on the page, but I think it's key to really seek to understand the suggested changes first. I read the letter and then let the feedback sit for a while before starting to make changes.
Once I'd absorbed the letter in full, my first step was to print it off and highlight key points and then set to work on the elements I knew instinctively how to change. Some of the harder edits required a little more thinking so I tackled those last.
Once I thought I'd covered off most of the edits, I gave the manuscript a last read-through to make sure the changes worked, and then went through the editorial letter again to double-check I'd completed everything.
The Novelry:
A US publisher came on board once you were signed with the UK publisher, Transworld. How did this impact the editorial process?
Sarah Pearse:
It was a wonderful experience in so many ways! I think every book benefits from having another set of eyes reviewing and analysing, and it is also great to have an expanded team supporting you. On the other hand, at points it also made things more complicated because of having to do certain aspects of the editorial process twice. This process was more streamlined with The Retreat which made things easier!
Sarah Pearse on the Publication of The Sanatorium
The Novelry:
You have different covers for the UK and US editions. What was that process like? How much approval did you have over the design process?
Sarah Pearse:
The process was fascinating – I learned so much about the different markets and why the designs are chosen to appeal to the different audiences. I would say the process is led by the publishers in both countries as they know what works from a sales and marketing point of view, but they are very open to feedback, and I could and did make suggestions on elements as the process developed. It is very much a collaboration, but I was always aware that both publishers are better placed to know what would make a reader pick the book up from the shelf.
The Novelry:
What was it like when you found out you'd been selected for Reese's book club?
Sarah Pearse:
It was the most amazing experience and totally unexpected! As a debut author, having your book chosen by such a prominent book club is such an honour – beyond my wildest dreams and then some. I must admit to having a little scream when my editor first told me! It took a little while for the news to sink in.
The Novelry:
At what stage in The Sanatorium publication process did you start writing The Retreat?
Sarah Pearse:
Almost as soon as I handed in my edits for The Sanatorium. There are long periods of waiting during the publication process and in between edits, so I got to work planning right away. I think it's good to start thinking about your next book, even if it is just making rough notes, so you have as much time as possible to work it through in your mind.
This week Sarah Pearse joins writers of The Novelry for a Live Q&A. Our members can watch back live events in Catch Up TV, which features a host of sessions with bestselling authors and leading literary agents on demand. We're the home of happy writing! Join us on a creative writing course – you'll receive a very warm welcome.
---
Sarah Pearse
Sarah lives by the sea in South Devon with her husband and two daughters. Her acclaimed debut novel, The Sanatorium, was an instant New York Times Top Ten bestseller in hardback, a No.1 Sunday Times bestseller, and a Reese Witherspoon Book Club pick. It has been translated into over 30 languages and has sold over half a million copies.
---