Know someone with a book in them? Or maybe you know someone who just loves writing? The best gifts for writers are the ones that help them with their writing process or give them new story ideas.
You'll find the ultimate list of the best gifts for the writer in your life right here, prepared by writers for writers. Simply scroll down the page. So whatever kind of writer you're shopping for, we've got you covered!
If your friend is always talking about wanting to write a book, why not get them a writing course?
It's the perfect way to jump start their literary dreams! For the more experienced writer, one of the best gifts for a writer can be to find a writing community that will help them beat writer's block and get published. And for the person who loves to write but doesn't think they have the time we can help them create a writing space in their daily life in just an hour a day to help them become the creative writer they've always longed to be.
With our wonderful writing online courses, coaching and community, the writer in your life will find inspiration, motivation, encouragement, guidance and support awaiting them.
Give the gift writers describe as 'life-changing

'

.
Give them the gift of writing their book with motivational coaching from award-winning, bestselling authors and publishing professionals. One of the best gifts for writers from the world's favourite online writing course.
Gift it now, online!
Simply purchase a gift class below. After purchase, you'll go through to our online gift service and you can tell us when you'd like the gift sent, on a date of your choice, even Christmas Day. You'll be able to add your own personal message. 
Your writer will receive their gift with your message and be able to log into their class and start it whenever they like. All classes and courses are valid for a year of happy writing and can easily and affordably be extended.
You can make your purchase with confidence. Ours are the writing courses recommended by the world's leading literary agencies for writers at all stages of their writing. This is a significant and memorable gift, and you will have one very happy writer friend!
Writers' Gifts From The Novelry
Our writing courses were created by Booker Prize-listed award-winning author Louise Dean to guide aspiring writers through an inspiring program with exciting, unique and practical insights for fiction writing. Your writer friend will discover our method for Happy Writing. 
They will receive their gift on a date of your choosing and will be able to log into their class and start when they like.
Our classes and courses are suitable for writers at all stages of their writing who want to find new joy in their writing life.
The Novelry has more five-star reviews than any other creative writing classes and we are rated Excellent on Trustpilot.
You can't give a writer a better gift.
The Classic Gift
To find the story.
The fully online class for writers in search of a big idea. The class will guide them with video, text lessons, downloads and tools. 50+ lessons to start planning the book only they can write. Plus a year of membership of The Novelry.
Introduce the writer in your life to classic novels and the storytelling secrets of famous writers with the best gift for the aspiring writer who loves to write but just can't seem to come up with the idea. Creative writers of all ages will love The Classic Storytelling Class. Whether they're writing a novel or short stories, the class will open the door to writing fiction and introduce the writer in your life to the techniques of professional writers.
This unique gift is ideal for the holiday season, as it includes exciting insights into the classic novels from our childhood and adult years, the biggest best loved stories of all time. The perfect gift for writers and book lovers too. They're sure to glean new exciting insights into the works of their favorite writer and gain inspirational understanding of how the great writers actually wrote their books.
They'll discover the secrets of the all-time bestselling novels to develop the world of a story for a unique and powerful plot. 50 lessons to start planning the book only they can write. Perfect if your friend can write, but they've not yet come up with a story or started to write. The gift for writers just beginning to write or in search of a big idea for their book.
The Advanced Writing Class Gift
For the experienced writer in your life, in need of refreshment and inspiration. 30 unique and illuminating lessons with video lectures, written guidance, tools and downloads from Booker Prize-listed author Louise Dean to help writers write their best story ever. Plus a year of membership of The Novelry.
If your writer has been writing for some time, then a thoughtful gift like The Advanced Writing Class would be the perfect gift. It's the insightful, expert course from a Booker-listed author that will make their writing life less lonely, and they'll be invited to join the writer's community and write with other successful writers. The perfect gift for freelance writers, published authors and professional writers who want to raise their writing game with expert insights from other successful writers.
More Gifts For Writers
Gift giving can be tough, especially when you have a writer in your life who is difficult to shop for. What do you get the person who spends their days (and sometimes nights) hunched over a keyboard, tapping away at their novel? If you're stuck for ideas, look no further. Here are some great gifts for writers that will help the writer in your life start writing, or even, perhaps, advance their writing career to fulfil their biggest dreams.
Writers are a unique breed of people, and their gifts should reflect their passion for words but they are also likely to be a book lover with very selective tastes, and you won't want to buy them the wrong book!

As full time writers at The Novelry, we personally love anything that makes our writing life easier and so we have put together a list of thoughtful gifts so that you can choose the perfect gift for the writer in your life.
So don't stress about finding the perfect gifts for writers – just choose something that you know they'll appreciate and that will help them in their writing career. And finally, one of the best gifts you can give a writer is your support.
Encourage them in their writing and let them know that you believe in them and are always rooting for their success!
Gift ideas for the writer in your life...
Here are some of the best gift ideas for writers.
1. A Great Notebook
Get them away from the laptop screen or the computer in this digital age and rewire their writer's brain to be more playful and free with a fountain pen and a beautiful leather bound notebook. All writers need a great notebook to jot down ideas, make lists, and take notes. Make sure to choose a notebook that is the perfect size for carrying around, and has nice blank pages for writing. Some of our favorites are Moleskine notebooks, which come in a variety of sizes and colors. At The Novelry, we personally love and recommend the soft cover notebooks which are easy to stow in a bag, and allow writers to hit the page whenever inspiration strikes, wherever they are, from commute to coffee shop to back at the writer's desk.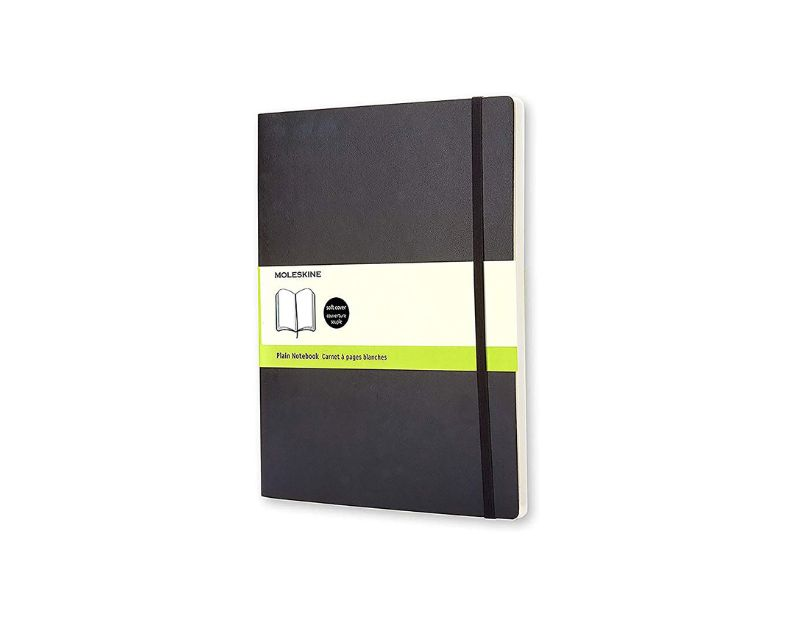 ... more gift ideas for the writer in your life.
And some other great gifts for writers.
2. A Good Pen
For writers, the pen is mightier than the sword – so much more than the humble but essential tool, a pen connects the writer to the world of readers. If the writer in your life is always losing pens, or using cheap ones that run out of ink quickly, get them a good pen that will last. Our favorite pens for writers are fountain pens, like the Pilot Metropolitan Fountain Pen. This pen comes in a variety of colors. For a luxury pen, we recommend considering the Waterman range which has a nice heavy feel in the hand that lends weight to the pleasure of writing time.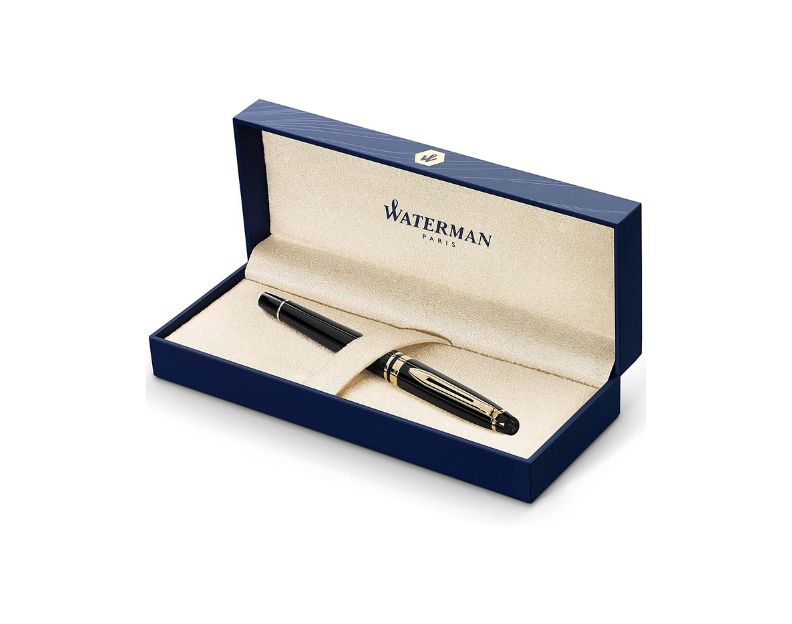 ... more gift ideas for the writer in your life.
And some other great gifts for writers.
3. A Stylish Mug
Every writer needs a great mug to fuel their writing habit. Get the writer in your life a mug that is both stylish and functional, like this "But First, Coffee" mug. This mug is not only cute, but it also has a silicone lid to prevent spills.
For something more literary for the writer in your life, let them take an espresso shot of inspiration with this small creamware mug from the Doris & Co brand of homewares created and designed by our very own founder. Try the William Blake mug here available on Etsy.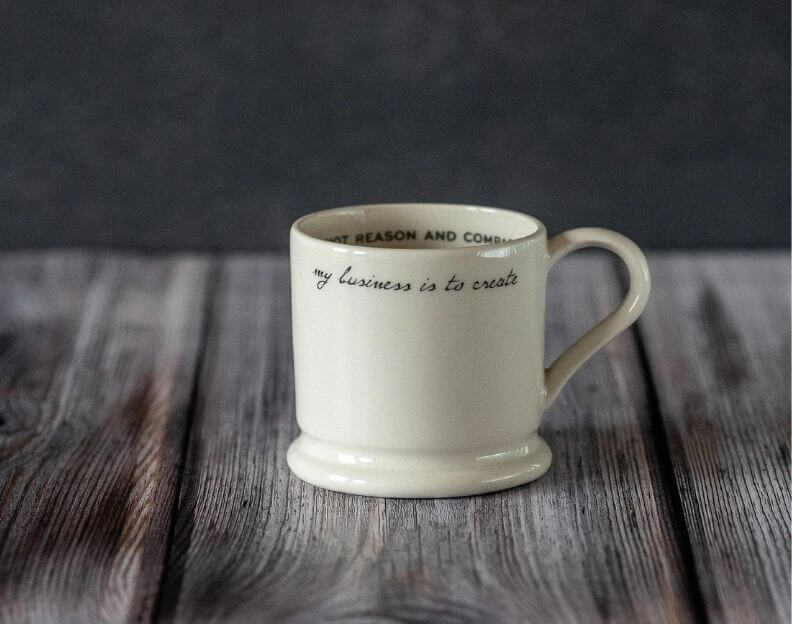 Writing time is often in coffee shops so you might like to consider a coffee shop subscription from Pret for your author friend. A subscription to a coffee provider like Pact means your writer will never run out of their preferred hot drink. Help the writer in your life kick-start their morning writing routine with coffee crafted by experts.
... more gift ideas for the writer in your life.
And some other great gifts for writers.
4. A Comfortable Chair
If the writer in your life spends hours at a time sitting at their desk, make sure they have a comfortable chair to do it in. A good office chair can be expensive, but it's worth the investment if it means your writer can work comfortably for long periods of time. We like the Herman Miller Aeron Chair which is a design classic and both comfortable and stylish. Every component of the Aeron chair is designed to maintain proper alignment and balance – no matter the sitting position. One of the best gifts for writers, the chair's design provides adjustable spinal support that helps your body mimic its strongest posture: standing, chest open, and pelvis tilted slightly forward. The tilt mechanism moves with you naturally and supports your entire range of movement. It's not cheap at over $1000 or £1000, but given the amount of time the writer in your life spends in writing time at the desk, we think this makes for one of the best gifts for writers and the chairs are guaranteed for twelve years of use.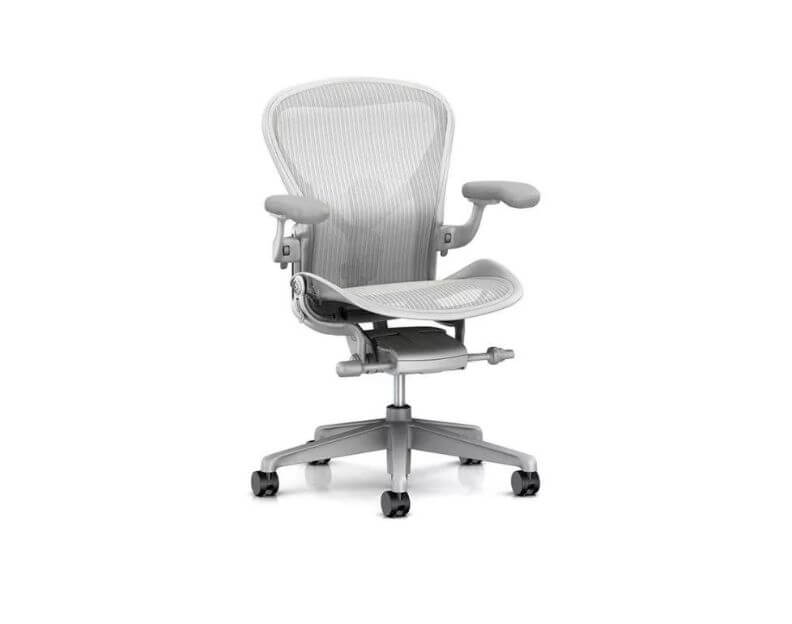 ... more gift ideas for the writer in your life.
And some other great gifts for writers.
5. The Desk
A standing desk can be a good gift for writers with back problems. Research shows that a stationary lifestyle can increase the risk of diabetes, obesity, heart disease and some kinds of cancer. Height adjustable furniture can reduce this risk, and by alternating between sitting and standing our bodies are generally healthier. Standing desks are available with electronic motorized features that allow a writer to adjust the height to their comfort. We like the Jarvis model here which is one of the most robust standing desks available. It's a motorised desk that takes you from sitting to standing at the push of a button.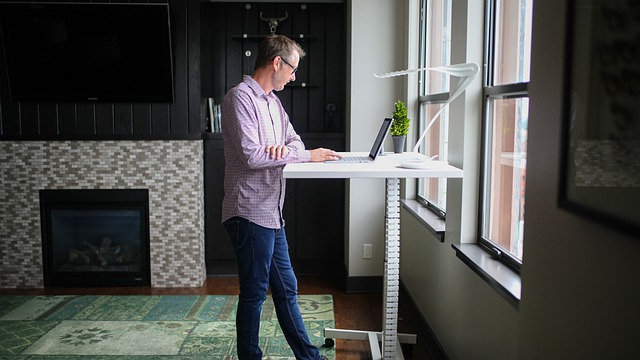 A lap desk makes one of the best gifts for writers who like to hit the blank page the moment they wake with their writer's brain buzzing with dreams and visions they can't wait to get down in words. Give the writer in your life the opportunity to seize the moment inspiration strikes by setting up their desk in bed! We like this Grosse Lap Desk with its curved desktop edge, curved tabletop, and ergonomic design. The desktop card slot design makes it easy and convenient to place on mobile phones, iPads, books and magazines. The folding design allows the legs to fold flat so you can easily put it behind the door or the corner of home when not in use. The perfect gift for creative writers and freelance writers too. If the writing life requires sitting at the keyboard for a few hours, put the table on a regular table and stand up to work, to help relieve neck and shoulder pain. (Just add coffee!)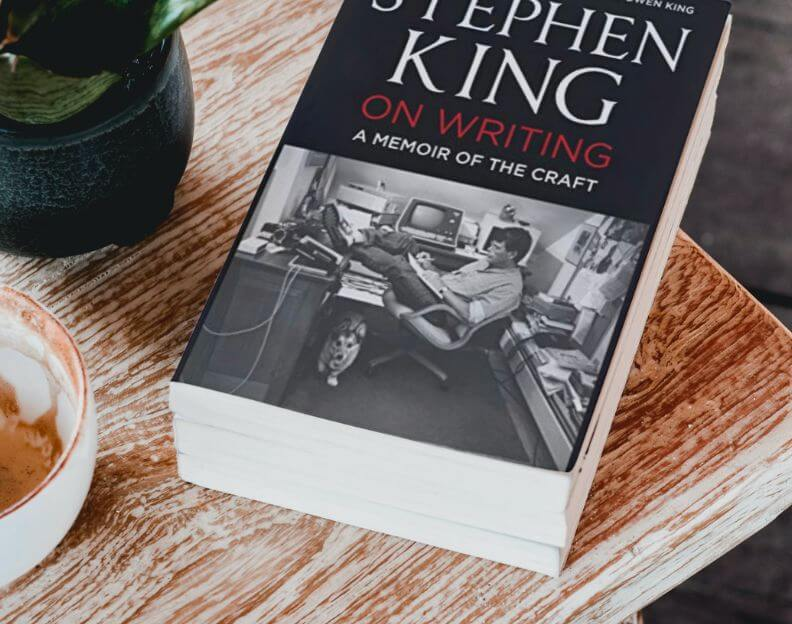 ... more gift ideas for the writer in your life.
And some other great gifts for writers.
6. The Tech! Modern Writing Tools and Gadgets
How about some new writing tools to grace a tech-savvy writer's desk? With so many writers, and freelance writers, writing online, it's time to get with the program! Gifts for writers don't have to be limited to writing by hand on paper in the 21st Century! An ergonomic wrist rest pad is a quick and cheap stocking filler type gift for a writer for less than $20 or £20 and you can buy one here. With so many writers using touch screens or iPads a digital pen is always handy and affordable too, another stocking filler gift for the holiday season, and you can find one compatible with most devices here.
If you know a freelance writer who spends a lot of time writing online, blue light blocking glasses make a great gift. These glasses help to reduce eye strain and fatigue, which is common when working on late night writing sessions. These blue light blocking glasses from Firmoo have a touch of writer chic to them too.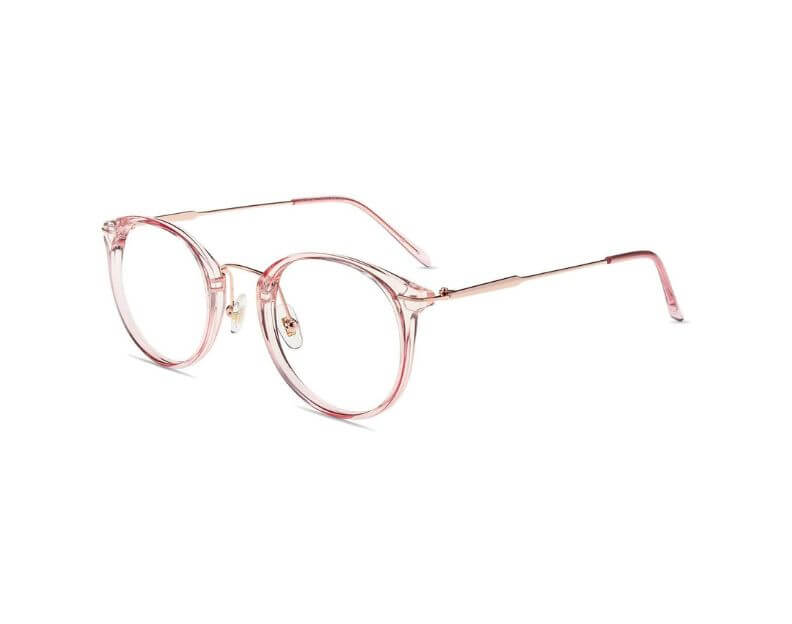 You might like to consider a blue light blocking screen too, these come in a range of sizes for desktop computers and laptops and simply clip over the screen. With the benefits of using a blue light blocking screen including improved sleep, these make great gifts for the writer in your life.
If you're looking for more practical gifts for writers, noise canceling headphones are one of the most thoughtful gifts for the writer who shares a writing space with a busy family life. We personally love these wireless headsets from Bose as they're comfortable for a long day of writing and the writer in your life can choose Quiet Mode for full noise cancelling or Aware Mode to bring the outside into the around-ear headphones and hear their environment alongside their music. Writers love writing to music, but their loved ones may feel less enthusiastic about that one song that puts them into the right writing space creatively, being played loud and on loop! Put a headset on the writer in your life for one of the best gifts for writers (and a very thoughtful gift for their families too).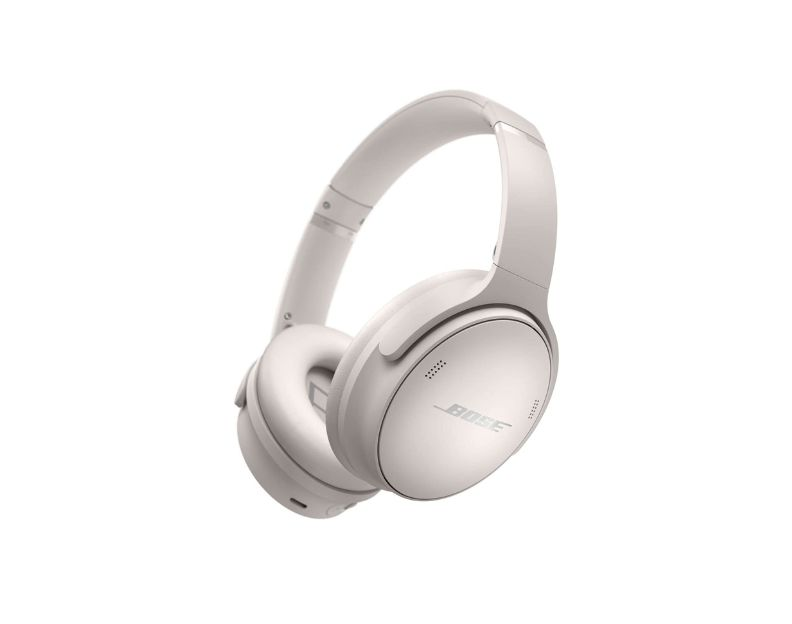 ... more gift ideas for the writer in your life.
And some other great gifts for writers.
7. Book Gifts For Writers
One of the best gifts for writers is to give them wise words of advice from famous writers like Stephen King, Ursula LeGuin, or Ernest Hemingway, and we have collated a list of writing advice books from our favorite writers at this blog post, many of which will be available via Kindle Unlimited.
The Guardian asked The Novelry to prepare a list of the top fiction books on the subject of writers writing and you can enjoy this list as a source of inspiration for your gift shopping for the writer in your life.
Browse to choose a selection for the writer in your life. A practical gift for the writer and book lover in your life might be a gift certificate for an online book store or a Kindle Unlimited subscription.
... more gift ideas for the writer in your life.
And some other great gifts for writers.
8. A Writer
's

Retreat

For the writer who is looking to get away from it all and really focus on their work, a retreat is the perfect gift. There are many different types of retreats available, so do some research to find one that would suit your writer friend. Some retreats are held in beautiful locations, while others offer more structure and guidance. Either way, a retreat is a great way for a writer to focus on their work and make progress on their latest project. We recommend Arvon Residential Writing Courses.
These are just a few of our gift ideas for your favorite writer. Whatever you choose, make sure it is something that the writer in your life will appreciate and use. Happy gift giving!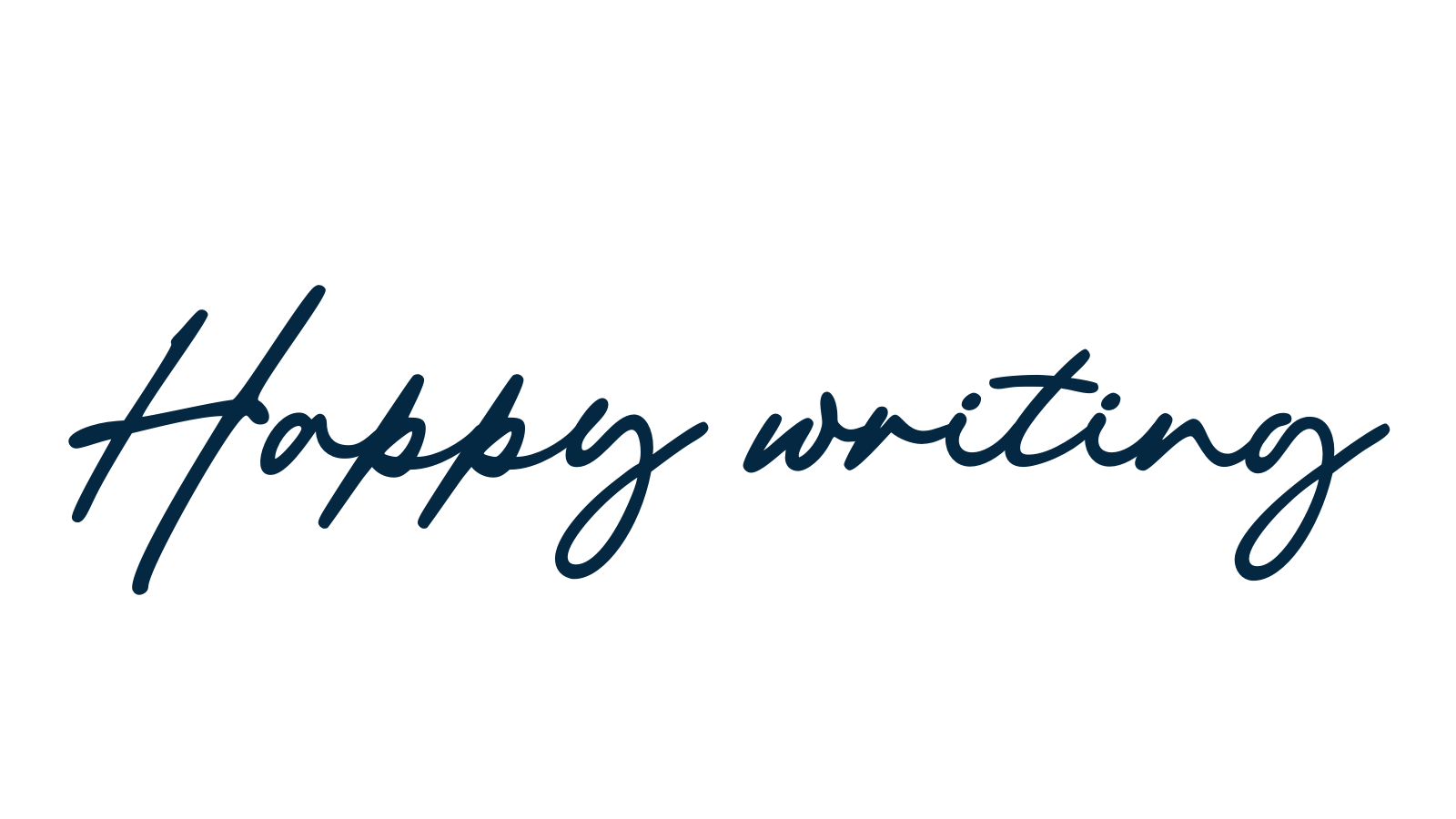 Our Writers Gifts – Frequently Asked Questions
Can I gift any of the other courses at the website?
Can my friend get writer coaching with these gift plans?
What's your refund policy?